How to Zombie Proof Your Books
by Vervante •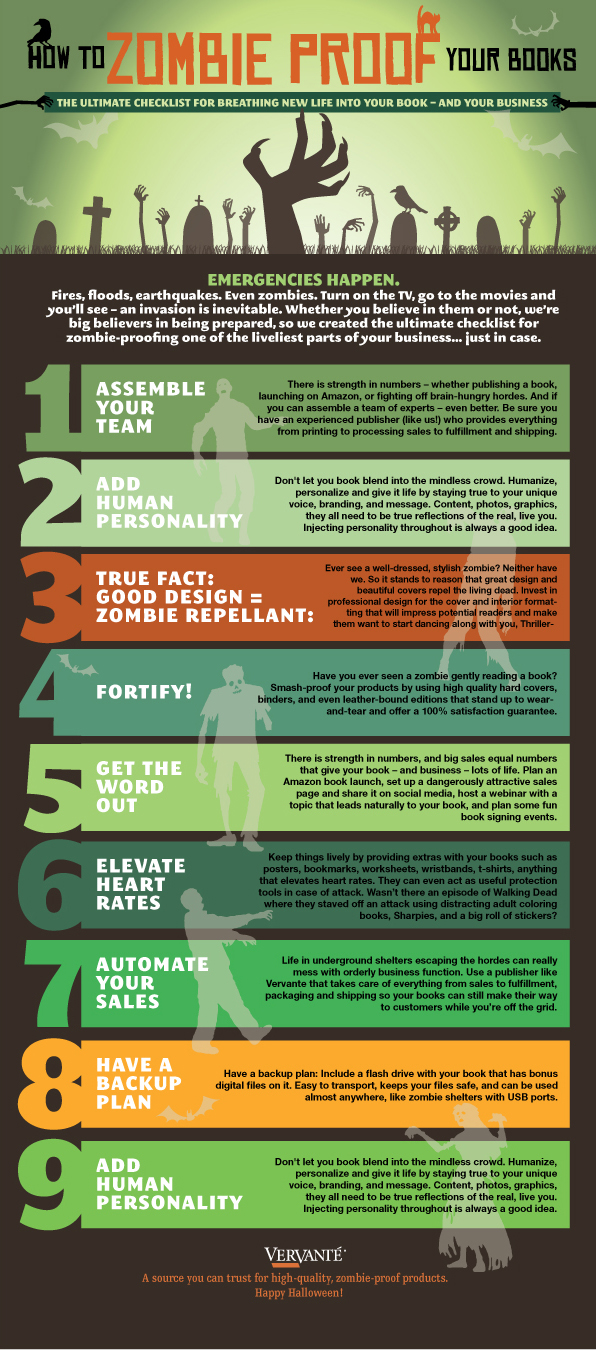 Emergencies happen. Fires, floods, earthquakes, pandemics. Even zombies. Whether you believe in them or not, we're big believers in being prepared, so we created the ultimate checklist for zombie-proofing one of the liveliest parts of your business… just in case.
Assemble Your Team: There is strength in numbers – whether publishing a book, growing your business, or fighting off brain-hungry hordes. If you can assemble a like-minded group of people with shared goals and dreams - you've got a fighting chance of surviving and thriving! Be sure you have an experienced publisher (like us!) who provides all the products and services you need, AND gives you access to your customers and their contact information (so you can stretegize together about future book releases or zombie attacks, your choice!)
Add Human Personality: Don't let your book blend into the mindless crowd. Humanize, personalize and give it life by staying true to your unique voice, branding, and message. Content, photos, graphics, they all need to be true reflections of the real, live you. Injecting personality throughout is always a good idea.
True Fact: Good design = zombie repellant: Ever see a well-dressed, stylish zombie? Neither have we. So it stands to reason that great design and beautiful covers repel the living dead. Invest in professional design for the cover and interior formatting that will impress potential readers and make them want to start doing the Thriller dance right along with you.
Fortify! Have you ever seen a zombie gently reading a book? Smash-proof your products by using high quality hard covers, binders, and even leather-bound editions that stand up to wear-and-tear and offer a 100% satisfaction guarantee.
Get the Word Out: There is strength in numbers, and big sales equal big numbers that give your book – and business – lots of life.
Elevate Heart Rates: Keep things lively by providing extras with your books such as posters, bookmarks, worksheets, wristbands, t-shirts, anything that elevates heart rates. They can even act as useful protection tools in case of attack. Wasn't there an episode of Walking Dead where they staved off an attack using distracting adult coloring books, Sharpies, and a big roll of stickers?
Automate Your Sales: Life in underground shelters escaping the hordes can really mess with orderly business function. Use a publisher like Vervante that takes care of everything from sales to fulfillment, packaging and shipping so your books can still make their way to customers while you're off the grid.
Plan Ahead: Follow in the noble paths of our government by planning ahead like with the Pentagon's CONOP 8888 Plan (real!), and the CDC's official Zombie Preparedness Plan (also real!) Check out the link to their Zombie Novella for a printable zombie preparedness checklist. See the full Department of Defense plan HERE. Or, easiest and best for your business, download our zombie-proof checklist by clicking HERE.
Have a Backup Plan: Include a flash drive with your book that has bonus digital files on it. Easy to transport, keeps your files safe, and can be used almost anywhere, like zombie shelters with USB ports.
Bonus Step (If you survive): When the dust settles and we emerge from World War Z alongside Brad Pitt blinking in the sunlight, the first thing we'll need to do is accumulate enough wealth to rebuild. Be sure to request our expert guide with 100 Publishing Tips (click on the "Get it Here" link at the top of this page) to help you get a head start on creating the book or printed product of your dreams.
Because when it comes to zombies - head starts are always a good thing!
Did you laugh? We hope so. But we hope you also recognized the useful tips and practical ideas we hid in between the lines. Business is serious, but should be fun, too. Thanks for letting us have a little fun with you today.
*Brought to you by Vervante: A source you can trust for high-quality, zombie-proof books and products.