17 Strategies For Boosting Book Sales
by Vervante •
In the first article of this series, we talked about the world of retail sales for your book or ebook, highlighting options and how to determine the best place online for the best results. We had a lot of feedback (thanks for that!!) and what we heard the most was: "OK, we liked learning about where to sell – can you tell us more about how to sell?"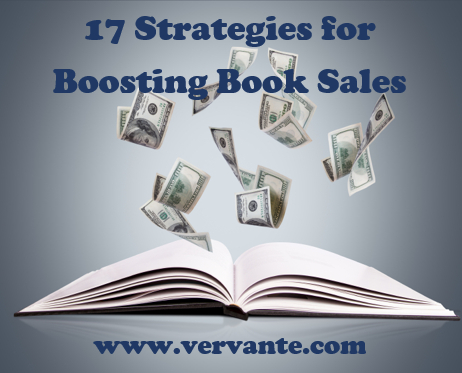 You got it!
It's no secret that by the time you've written, designed and published your book, you've put a lot of time, resources and personal energy into it. So now is the time to pull out all the stops and put into action a marketing plan that will give it the promotion it deserves.
We've been helping best-selling self-published authors with their books for more than 15 years and during that time we've learned a lot about what works – and doesn't work – for promoting and selling books online. The following are just a few ideas for marketing your book both online and in person. It's important to remember that if you are going to use your book as part of a business or message-sharing strategy, you must take steps to increase the visibility of your book and bring it to the attention of your target audience.
Shout it out via social media: Facebook, Twitter, YouTube, LinkedIn. These and more have all been used successfully by authors to build up to a book's release, attract a loyal audience and increase sales. Social media lets you connect to your target audience in a way that is quick, easy and often free.
Your website: This may seem like a no-brainer, but so many people forget to put a promo and a link to purchase your book in a prominent place on your website homepage.
Blogging: Share the inspiration for your book, reveal tidbits and quotes to give readers a peek inside your book, reprint feedback from readers and reviews. These are all great ideas for blogging as a way to increase visibility for your book while whetting people's appetites to buy it.
Speaking engagements: As a published author your chances of being booked for speaking opportunities increases, and with it the opportunity to share your message as well as sell your book from the stage.
Colleagues and affiliates: Be sure to let your friends and loyal fans know about the book and how to share the news to their audiences. If your business offers affiliate programs, don't forget to include them in the launch.
Sales or splash pages: These are specially designed web pages filled with sales copy and graphics that promote you, your book and the value it can bring to the reader, as well as giving readers the opportunity to buy your book online. Share links to this page on social media, from your website, blog, in person or on the phone.
Free telecalls or webinars: Using online or conference calling systems, offer a wide audience a chance to see or hear you speak about your subject or your expertise while also providing insight into the book and its value.
Guest appearances: These are not just for the Oprah crowd anymore. Reach out to online radio and talk shows, webinar producers, YouTube channels and more that focus on your topic and offer to share your knowledge, insight and information about your book with them. This is another great way to address a new audience, boost your visibility, and boost your book sales.
Invest in products that support your message and spread the word. Check out the Vervante store for ideas such as card decks, accompanying CDs, custom-designed mailers and more. For a small price you can get big marketing results by using these as part of a strategic marketing plan.
Plan an official book launch event: If you're thinking about organizing a book launch as part of your marketing and sales efforts, there are many options available that will bring you success. Be sure to check out our free guide "How to Plan a Successful Amazon Book Launch," on our website. Or if you are planning a live event, we can help, too. Just drop us a line at customerservice@vervante.com and we'll be happy to share our thoughts with you.
Your newsletter or ezine: An email blast is the perfect way to promote your book. After all, this is an audience that you know is interested in the topic you specialize in.
Your email signature: Think about how many emails you send out per day. Add a teaser and a link beneath your email signature that is short, sweet and lets the recipient know about your book, with a link to your sales page.
Press releases: Write several press releases about your book and send them out using either paid or free services before, during and after your book launches. Don't forget to send these releases to your local newspapers, trade publications and niche websites, magazines and blogs who also might be interested.
Video: Video for a book? Oh yes! Here are some ideas for using video to promote your book: Share a video of the author (that's you!) talking about what's in the book. Record interviews with people who have read the book and their reviews. Place the videos on your YouTube channel, but don't forget to share them via Google+, Facebook, Twitter and your blog as well.
Guest writing: Connect with people, websites, blogs, media that shares a common audience and focus as your book. Offer to write a guest article for them and refer to your book in your author bio or at the end of the piece.
Offer added value: If you are selling your book via your own shopping cart, website or through the Vervante bookstore you have the control and ability to sweeten the deal by offering valuable extras. Give them a free download, extra templates, CDs or DVDs, or other products that complement the book and add value to their purchase.
Watch and learn from the best: Is there a successful author you follow who recently launched a book? Watch and learn – see what methods they used to boost their book sales and use the ones that appeal to you most. You don't need to reinvent the wheel.
Here's the bottom line. You've written your book to provide something specific for your intended readers. Education, entertainment, inspiration, motivation... whatever it is, keep that original goal in your mind as you market and promote your book. Don't be "salesy." Instead let potential readers know why you write the book, what problem it solves, and how it will be the best at doing so. Connecting your passion and purpose to your book in this way is much better than pushing a sale, because people will appreciate that you're in it for them. And that makes all the difference.
In our next article, we'll talk about how your book is a super secret weapon for helping your business achieve a new level of success. And if you missed the first article in this series, click HERE to access it now.