Happy Coloring Book Day!
by Vervante •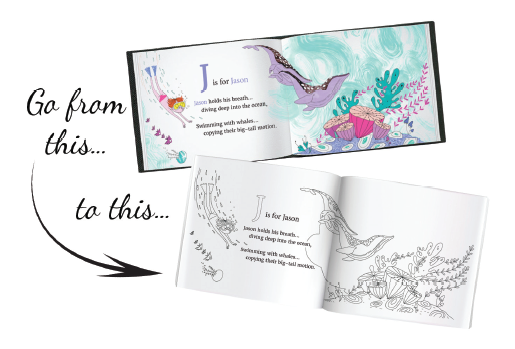 Did you know that today, August 2nd, is National Coloring Book Day? We love coloring books and wanted to share a few ideas and some creative free coloring pages with you today in celebration of this holiday.

ADULT COLORING BOOKS are very popular right now, and a great way to create connections with potential clients, add value to products or programs you offer, or create new revenue streams to boost business income. Check out this article for tips on creating adult coloring books and ideas for incorporating the into all types of businesses.

CHILDREN'S COLORING BOOKS are popular too, and we can something special we offer for children's books authors with illustrated books. We can transform full-color books into coloring books by removing the color from illustrations and simplifying text if needed to create a companion coloring book (as seen in the illustration). It's a quick, easy process that instantly doubles the products you can offer your audience. Plus, we can also ship coloring books with crayons or colored pencils to make them even more special. For more information about publishing children's books and creating coloring books, check out this article.

COLORING PAGE INSERTS: Products like planners, journals, books, and coaching or training materials can also benefit from the creative energy of coloring by adding individual coloring pages to the content. Check out the sneak preview of our new 2019 Planners to see what we're talking about.

FREE COLORING PAGES: In honor of National Coloring Book Day, we invite you to click on the following link to download our pack of 5 gorgeous coloring pages and let your creativity soar. We really appreciate you and hope these bring a smile to your day.