Linen cover? Faux leather? Planner choices to fit everyone
by Vervante •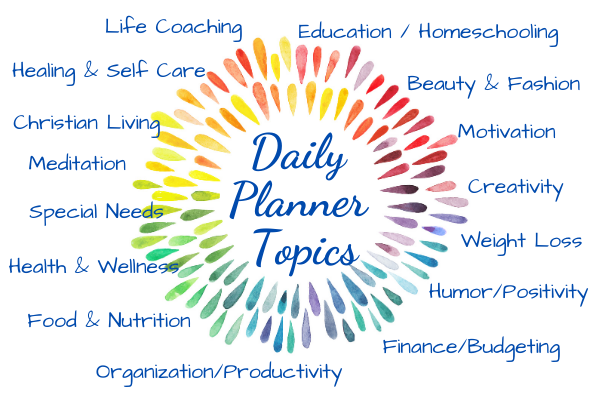 A few weeks ago we shared a step-by-step guide for creating a daily planner. Dates and deadlines for creating one for the year 2022 were provided, but our tips will work for any date, and even undated planners. Feedback was great, so we wanted to dig in a little deeper to discuss the steps in detail.

Step 1 was understanding your timeline. For instance, if you are planning to launch a planner for 2022, the final date to submit your files for printing is Oct 15, 2021.

Moving on, today we wanted to talk about the next important steps – deciding how your planner will look and function. A really great planner should provide the perfect mix of attractiveness and functionality. Your customers want it to look good and help them achieve their goals, so this step is very important. Find that sweet spot and you'll create fans who keep coming back for more.

Choose Your Topic
There is an unlimited potential pool of ideas for daily planners. The sky is the limit when it comes to topics and types. Ask yourself: Who is your audience and what type of planner would best serve their needs?

Next, you'll want to decide on the size and specs for your planner, starting with cover and binding. We'll outline some options below, but please also check out the Vervante Video Vault where we highlight many different options for planners, including size, binding, and types and treatments for covers.

Binding options
Metal wire-o
Metal spiral
Plastic spiral
Custom printed 3-ring binders (any page size)
Case binding
Punched for Disc Binding
Concealed wire-o
Cover options
Hardcovers (for wire-o, spiral or case binding): For a 12-month planner we recommend a sturdy cover that will hold up to daily use. Our most popular cover is a hardcover with either a printed design, faux/vegan leather, or linen treatment. We have color charts on our site for faux/vegan leather, linen, and customer favorite LaCreme vegan leather that feels like suede.

Laminated Covers: Another durable cover, and a great option for a 12-month planner, is our laminated covers. These can be wire-o, spiral bound or punched for disc binding.

Board Covers: These are a 2-ply softcover that creates a board-like cover option. These are sturdy and will hold up to daily use for 12 months.

Softcovers: If you have a short term planner such as a 30-60-90 day planner, a softcover would be fine. We also offer a poly plastic overlay to help protect the covers.

Foil Stamping: We offer a wide variety of foil stamp colors that you can see here. We can foil stamp hardcovers (printed, faux leather and linen), board covers, laminated covers, and softcovers.

Metal Corners: These are a popular add-on for hardcovers. They are available in gold metal.

Elastic Strap: These are a very nice addition to a hardcover planner or journal.

Ribbon Marker: We can add a ribbon marker (or two, or three, or more) to your casebound planner or journal.

Helpful website links
You can see all of the color choices and other options on our website, here:
Design & Functionality
Design matters. If you want to do it yourself, you can use programs like Canva or InDesign to create your planner pages. Or you can hire a professional graphic designer. Just make sure your planner design is both beautiful and functional for a high-quality look and feel. Be sure to watch our videos about creating planners and add-on options on the Vervante Video Vault page.

Are you ready to create and sell your own daily planner? We can help you make that dream come true! Here at Vervante, we believe in living an intentional, productive, and beautiful life – and we're proud to help people like you make the world a better place. Email us at customerservice@vervante.com or schedule a call using the link on our Contact page for questions, quotes, and any help you need.