Full-Color Printed Snap-In Bookmarks
by Vervante •
We're excited to introduce our latest offering: full-color printed snap-in bookmarks, now available for wire-o, spiral, and 3-ring binders. Previously, our snap-in bookmarks were exclusively available as foil-stamped on frosted poly plastic.
Our 14 pt poly plastic paper is ideal for bookmarks due to its durability, water and tear resistance. While many of our customers appreciate poly plastic paper for covers, it's also the perfect material for snap-in bookmarks.
>>Check out our new bookmarks HERE.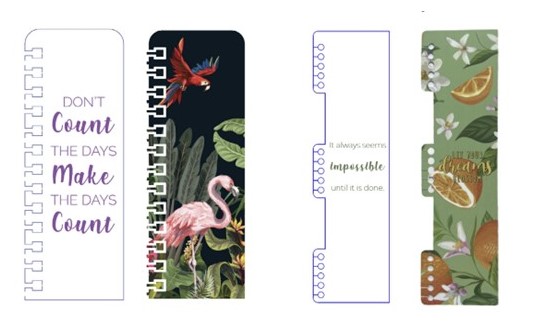 Custom printed bookmarks are a versatile and cost-effective way to enhance your visibility and add value to your products. Here are some creative ideas for using custom bookmarks:
Printed bookmarks with square or round corners: Our traditional printed bookmarks on 12 pt cover stock remain a classic choice. Customize them with your logo, brand colors, and a message that resonates with your business.
Snap-in Bookmarks for Wire-O, Spiral Bound, and 3-Ring Binders:
Foil Stamped on Frosted Poly Plastic
Full Color Printed on Poly Paper
We also offer plain, unprinted, not foil-stamped snap-in bookmarks for wire-o, spiral, and 3-ring binders. These are readily available and can be ordered on demand.
By incorporating custom bookmarks into your promotional strategy, you provide a practical and appreciated item for your readers, all while keeping your brand in the spotlight. Whether you opt for traditional printed bookmarks or our versatile snap-in options, these bookmarks offer enduring value and can be included as a bonus product.