How to Make Custom Door Hangers
by Vervante •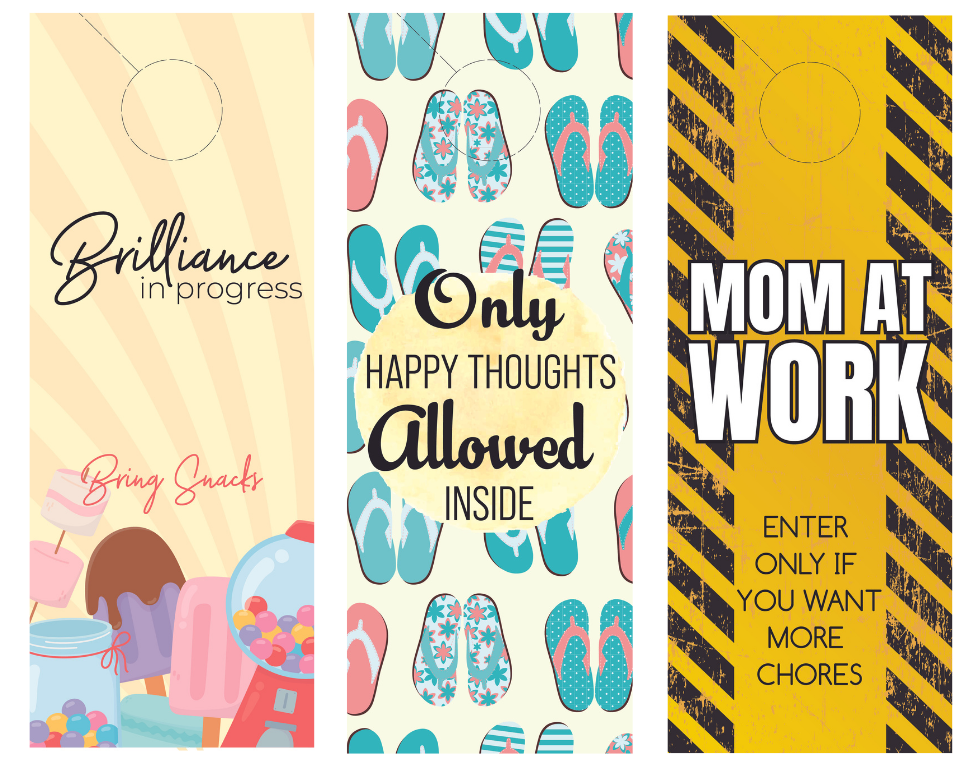 Looking for something new to add some pizzazz to your product line or create some fun discussions with your customers? How about creating custom Door Hangers? These are easy to create, you can customize with any design, can be printed single or 2-sided, are budget-friendly, and great for adding to just about any product – from books to planners to monthly subscriptions boxes.

Design Instructions
If you are interested in creating door hangers, you can request a copy of our templates by emailing sales@vervante.com. In addition, here are a few notes to help you during the design process:
The print-ready PDFs should NOT include the template, these are provided for spacing and die-cut hole placement as a guide when you create your artwork.
Since we use pre-cut 8.5x11" stock, the artwork cannot bleed on the outside edges.
A white border looks best.
How to add extras to your products and packaging
Adding fun extras to packages and programs is a great way to really help your products stand out. Many of our clients create fun items like this to add value and enhance the experience of their own customers. The secret to really impressing your customers is to choose items to add to your box that will complement and add value for products, programs, or events.

Here are some ideas of products we offer:
Door hangers
Postcards, note cards, or letters
Wallet card flash drive
Card decks
Golden tickets, coupons, or bookmarks
Notepads / Notebooks / Journals
Stickers
**(See our online catalog and product sample page for more ideas we can help you create)

In addition to items we print, you are also welcome to send us supplied items and our fulfillment service team can include them in your packages for you when we ship out your orders. Here is a sampling of some of the items our customers have sent us to include in their shipments:
Pens, pencils, markers
Apparel
Crystals
Bags for card decks
Tissue paper to wrap the planner/book/journal
Colored crinkle paper to sprinkle in the box
Athletic accessories (fitness bands, supplements, etc.)
Tote bags, pouches or pencil cases
Special boxed items that involve multiple parts need to be assembled, packaged and delivered just right. Here at Vervante, we provide the storage, assembly and shipping services you need to make sure everything goes together smoothly.
Start by sending an email to sales@vervante.com for a free quote for any products you want us to produce for you.
Let us know all of the products you plan on using, the box size and anything else you want for this project and we'll help you get set up.
Better yet, put your head together with our CEO, Cindy Tyler, and she'll provide the advice you need for the box you want to create. (Schedule a phone call by clicking here)
It's fun to receive a package, but it's a much more exciting experience when it contains so much more than expected. Here's to creative ideas that make someone's day!