Videos showcasing daily planner features
by Vervante •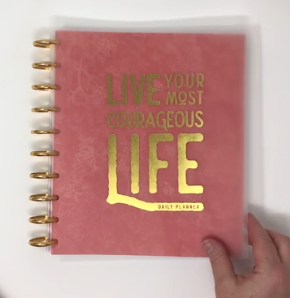 We're excited to share with you several new videos we've posted to the Vervante Video Vault showcasing new features that add both fun and functionality to these popular products.

"Casebound Hardcover" Video
In this video we highlight three case bound hardcover products good for planners, journals and books with several options that make them stand out:
Linen-finish cover with gold foil embossed images
Colorful elastic straps and ribbon markers
Off-white paper with grid patterns
Faux leather cover with gold foil stamped title
Printed hardbound cover with white printed title
"Poly, Laminated and Disc-Punch" Video
This video shows multiple versions of a sample planner and a new binding option we're very excited about - Metal Disc Binding.
Poly or laminated covers are a great option for a high-quality feel without the extra cost of a hardcover.
Metal Disc Binding: If you haven't seen this yet, be sure to check it out. Disc punch binding is the hottest new feature in daily planners, allowing greater ease for customizing each planner as interior pages can be easily added or removed. We're proud to be one of the first print-on-demand publishers to offer this unique option.
Laminated covers are also great for planners or workbooks, adding durability without incurring extra costs like hardcovers would.
"Hardcover Concealed Wire-O" Video
We love the options showcased in this video because you can create a high-quality case bound hardcover book, planner or journal with a traditional-look spine, but with Wire-O binding, so the pages lay flat for ease of use. Check out the video to see our newest release of an undated planner with extras that really stand out such as endsheets and dividers in full color, lay-flat inner pages, and stickers that can be used on both tabs or monthly spread pages.

Did one of these journals or planners catch your eye? You can order samples of various products here. Please check back often as we add new products to our samples collection. Please contact sales@vervante.com if you need a quote or have questions about planners, journals or any of our other products.

If you love these ideas and want to learn more about incorporating them into your next products, email our publishing specialists at customerservice@vervante.com for questions, quotes and anything else you need.