Supporting Paralympic Athlete Brittani Coury
by Vervante •
Today I'm sending out a "special edition" of our blog to share something behind the scenes that's been happening here at Vervante.

A few months ago I attended an event in Colorado as a speaker (that's me in the back). This event was filled with women entrepreneurs and I loved every minute of it. Someone stood out though that I was drawn too, and I'd like to share a little about her story with you - and how I, my company, and a team of dedicated professionals are rallying around this woman.

Brittani Coury is a snowboarder. She holds numerous world titles and won a silver medal. She is also an amputee, and as a Paralympic Athlete she has had to overcome some serious hurdles in her life well beyond losing a limb. Her journey from running wild as a young child raised in a wrecking yard, to mohawked teenager with an attitude, to losing her leg to an injury and turning her life around to become a symbol of hope and inspiration is one that sticks with you. From underdog to inspiration, Brittani has overcome so many obstacles in life to get where she is today - and you can't help but admire her fearless approach to life and her passion for being a positive influence.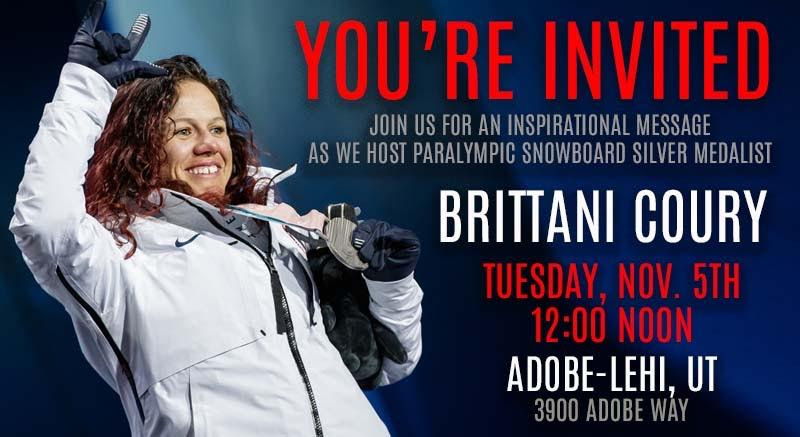 As Brittani prepares for the 2022 Winter Paralympics, many of us who have had the pleasure of meeting her are rallying to support her trip in any way we can. I have dedicated some of the resources of my own company to help Brittani share her story and touch more people's lives, in addition to supporting her journey to the next Paralympics.

Tomorrow is a big day for Brittani as she takes the stage at Adobe's headquarters. If you're located in northern Utah and would like to meet and see Brittani in person, she will be speaking Tuesday, Nov 5th at noon at the Adobe offices in Lehi, UT.

And if you want to join in with "Brittani Nation" and follow her story, stay tuned. We will be including updates in our future newsletters, including about her book coming out soon, as well as ways you can also join in to help make her dreams come true.

You can also follow Brittani's Instagram account for her latest adventures.

thank you!
Cindy Tyler, Vervante CEO