How to Zombie-proof your Info Products
by Vervante •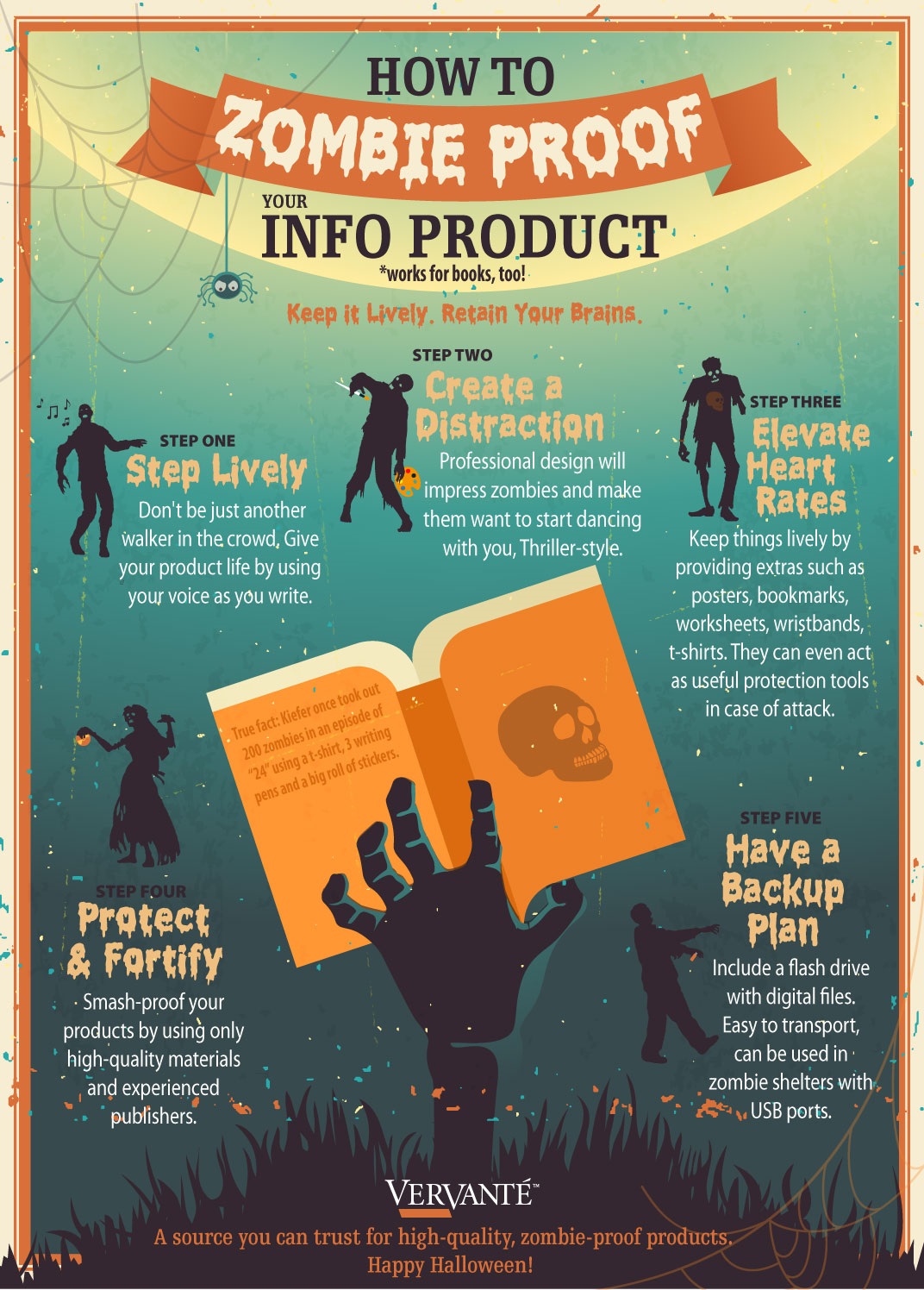 Zombies, zombies everywhere. Turn on the TV, go to the movies and you'll see – an invasion is inevitable. Even the CDC has an official Zombie Preparedness page on their website. Whether you think zombies are real or not, we're big believers in being prepared, so we created this guide for zombie-proofing your information products and books … just in case.
Step 1: STEP LIVELY: Don't be just another walker in the crowd. Humanize your product and give it life by staying true to your unique voice and message. Content, photos, graphics, they all need to be true reflections of the real, live you.

Step 2: CREATE A DISTRACTION: True fact: Great design is a proven zombie protection technique. Invest in professional design for the cover and interior formatting that impresses approaching zombies with color, graphics and branding wow. It'll make them want to start dancing along with you, Thriller-style.

Step 3: ELEVATE HEART RATES: Keep things lively by providing complementary extras with your info product such as posters, bookmarks, worksheets, wristbands, t-shirts... anything that elevates heart rates. They can even act as useful protection tools in case of attack. Wasn't there an episode of "24" where Kiefer Sutherland took out 200 zombies with a t-shirt, 3 writing pens, and a big roll of stickers?

Step 4: PROTECT & FORTIFY: Have you ever seen a zombie gently reading a book? Neither have we! Smash-proof your products by choosing a publishing company that uses only high-quality materials and offers a 100% satisfaction guarantee.

Step 5: HAVE A BACKUP PLAN: Include a flash drive with your info product that has all the digital files for your product on it in. Easy to transport, keeps your files safe, and can be used almost anywhere, like underground zombie shelters with USB ports.

BONUS STEP (IF YOU SURVIVE): When the dust settles and we emerge from World War Zombie alongside Brad Pitt blinking in the sunlight, the first thing we'll need to do is accumulate enough wealth to rebuild. Be sure to download this expert guide about the Top 3 Products You Can Create for Instant Income by clicking HERE, and you'll have a big head start for your business. Which is always a good thing when it comes to zombies, right?!

Bottom line? Whether you believe in zombies or not, popular media seems to think an invasion is inevitable. So we figure, why not be ready?

Happy Halloween!

**Brought to you by the publishing (and zombie) experts at Vervante: A source you can trust for high-quality, zombie-proof products.