Author Spotlight: Sharon Sayler
by Vervante •
We're constantly amazed by the clever, unique, brilliant and beautiful books and products our customers create. Today we'd like to introduce you to Sharon Sayler. An accomplished author, speaker and expert in courageous, conscious communication skills, Sharon had already written several books about mindfullness, communication and leadership skills when she was inspired to follow her heart and write a children's book. As she continues to work with adults to enrich their lives as business leaders and entrepreneurs, she's enjoying this new path of life enriching the lives of young readers with the book and fun products she created to go along with it.
Sharon's story
Q: What inspired you to write a children's book?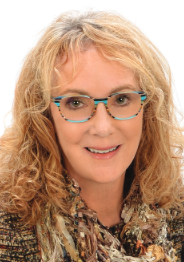 Funny you ask, one might call it a brain download more than a brainstorm. Pinky Chenille(tm) and the land of Addendale came to me in a dream three months before my first grandchild was born. I jumped up out of a deep sleep at 2 a.m., and there was Pinky and Princess Adeline, and the Color Critters all in vivid color 'talking to me' about the first story 'Pinky Chenille and the Rainbow Hunters' in the Pinky Chenille series. I immediately began to write down what I was seeing and hearing. Crazy sounding, I know! It wasn't in early-reader rhyme like it is now, yet the story was all there. It took five years to bring it to 'life.'
Q: What advice would you give other authors when writing their first book?
GO FOR YOUR DREAM! I struggled five years to bring 'Pinky Chenille and the Rainbow Hunters' to life, even in the face of plenty of people saying "Why?" (And to be transparent, the last four years of the 'Pinky Chenille and the Rainbow Hunters' saga I was recovering from a severe medical condition.) So, don't let anything or anyone stop you when you KNOW this is what you are meant to do. With Vervante being a wise and positive team member on the Pinky Chenille team, we made it to a #1 bestseller on Amazon, got a 5-star review from Readers Favorites, 33 very positive reviews on Amazon, and have a passionate social media community – it's just amazing.
Q: What do you love most about this book?
Shamelessly, I'm saying everything! The fun way the story and illustrations go from black and white to full color, the attached audiobook on CD so kids can listen along, the hardcover - all making it a legacy book, one that can go through many grandkids. And for Rainbow Hunters, I wanted to impart in a playful and easy to understand way values such as compassion, empathy, teamwork and especially getting along, that I feel are missing these days in so many places. During the research phase of what is children's-early-reader-fiction and now reading to my grandchildren, I've been shocked at how bad some children's books are. I've found topics that aren't appropriate, words that little ones don't need to hear, illustrations that are scary, etc. 'Pinky Chenille and the Rainbow Hunters' is a positive, fun message about getting along and how our differences are what make us stronger. Playful and easy to follow were as vital to me as the values because the book is for the 3-to-8-year-old crowd and honestly, I think regardless of age we all enjoy a book that is playful and easy to read.
About Pinky Chenille and the Rainbow Hunters
When all the Color Critters decide to hide their color, Addendale becomes a very sad and drab place indeed… Headlines everywhere read: Addendale's been reduced to monochromatic by Color Critters!
As Princess Adeline came rushing along,
By the look on her face, something was wrong . . .
"Pinky! Pinky! Where did the colors go?
I've been looking high and low!"
Can Pinky Chenille and Princess Adeline bring all the colors back together and make their world a colorful, happy place again?
Perfect for reading-together-memories for years to come, Pinky Chenille and the Rainbow Hunters is printed in beautiful full-color with a hardcover and audiobook CD. With whimsical art and playful rhyming verse the main characters, Pinky Chenille and Princess Adeline, weave a fantastical tale on the importance of friendship, teamwork and getting along. Just like the classic tale 'Wizard of Oz' Pinky Chenille and the Rainbow Hunters starts with delightful black and white illustrations and ends in a merriment of blazing full color.
Written by Sharon Sayler, her magical story is designed to entertain and inspire young minds, stimulate their imagination, and encourage a kinder, more compassionate world. Delightfully illustrated by Olivia Cole with black and white and full-color imaginative illustrations that enchant young and old alike.
PinkyChenille.com offers free coloring and activity sheets available in PDF format so that you can download and print them over and over again. Children love repetition, and in a printable form, you never run out of their favorite activities.
Learn more
You can learn more at www.pinkychenille.com (use secret code "Friends" to save 15% if purchasing from website), and join the Pinky Chenille community on Facebook at www.Facebook.com/PinkyChenille; and via Twitter, Pinterest, and Instagram at @PinkyChenille.
Get your product featured
If you enjoyed this article and would like your Vervante product featured in our newsletter and blog email social@vervante.com with the following information:
250-word overview of your product
URL link for the landing or sales page for the product
High-res image(s) of the product and/or author
Your creativity inspires us and your success deserves to be shared!