Author Spotlight: Amber Campion
by Vervante •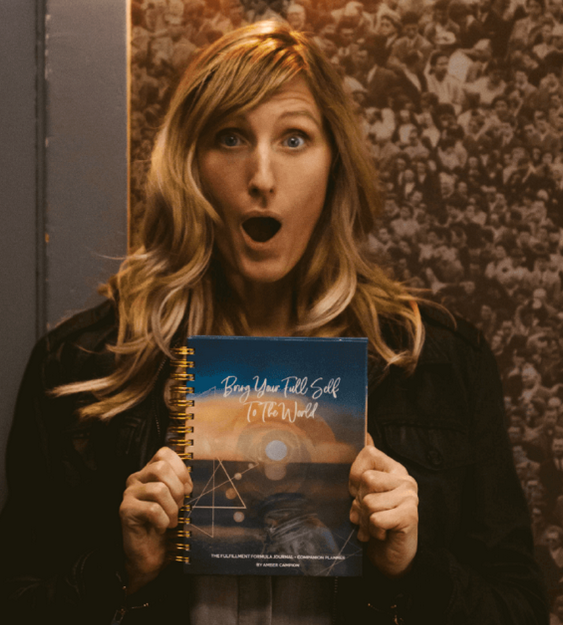 We're constantly amazed by the clever, unique, brilliant and beautiful books and products our customers create. Today we'd like to introduce you to Amber Campion, an international yoga teacher, life + leadership coach, martial artist, author, and creator of an innovative life design and goal-setting guided journal and companion planner. Amber took this product a step further, by publishing The Fulfillment Formula Journal + Companion Planner in conjunction with The Changemakers Collective, a 4-week experience + community designed to help people who use the journal to create their year ahead with purpose, presence, and peace of mind.
The story behind the Fulfillment Formula products
Q: What inspired you to create this set of products?
I had been teaching and coaching this process I created (The Fulfillment Formula) for two years. I had clients saying I ought to write a book and make a guided journal/planner...and so I did! The guided journal was a goal of mine for 2018 (set for myself in 2017). I thought it would be a really creative way for me deepen my thoughts around my message and what I'm teaching, to help me better formulate my words for pitching a book to a publisher. It was a great experience creating it and I'm so glad I did! It wasn't easy, but it was worth it!
Q: What advice would you give to others considering creating journals or planners?
I did research first to see what was out there and what people liked and didn't like (for instance, I found that lots of people said they prefer wire binding when they're writing in a book, so that it stays open). My research also led me to Vervante (which answered many of my concerns with self-publishing). And finally, I have an audience to sell to...so I highly recommend you have a mailing list. This makes all the difference in making sure sales happen. We often think everyone will buy because it's a low cost product, but the truth is...the 'know-like-and trust' factor is a thing. Even low cost items take marketing effort. If you have an audience who knows you, likes you, and trusts you...well, this helps significantly.
Q: What do you love about your products?
I love end of the month and year rituals that are sustainable, soulful, and creative. It feels deeply nourishing to have guided processes for setting goals and designing a life that feels like me...so this journal is my little sacred book to bringing my full self to the world. I also love having my goals and life design for the year ahead, in one place. I feel like this journal is my little Dreams, Character, and Goals companion to keep me aligned with my deepest truths and desires.
About The Fulfillment Formula Journal + Companion Planner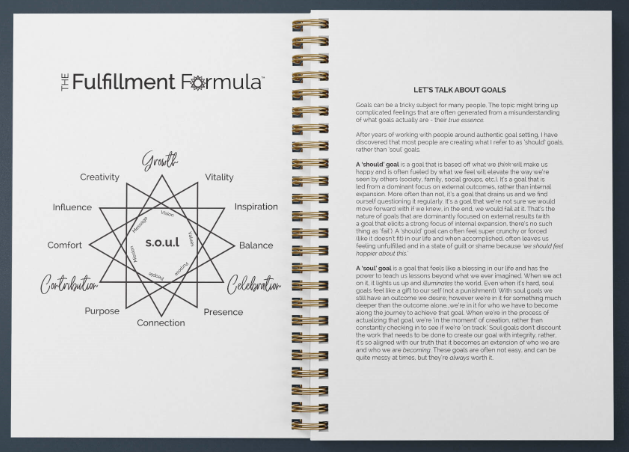 This beautiful guided life design journal + soulful planner will enable you to envision, design, and create an enriched life of purpose, presence, and peace of mind with more ease and efficiency.
This is not a daily planner where you write down your meetings and appointments. This is a life design journal + companion planning system that supports you in defining, designing, and developing the one thing that matters most when it comes to creating a life of fulfillment…you.
Through a one-of-a-kind life design and goal setting application, to a series of provocative writing prompts and exercises, this book will inspire you to bring your full self to the world. Every aspect is carefully curated to support you to create clarity for what really matters most to you, discover your truth with more depth, design a life with more meaning and on your own terms, and build your wholehearted courage muscle to live a life true to your whole self.
To get the most out of this book, Amber recommends joining The Changemakers Collective - a 4 week experience guiding you and deepening into the processes in the journal, along with bonus interviews with creative changemakers, yoga/meditation classes, and a community of like-minded rebels with a cause at http://www.ambercampion.com/thechangemakerscollective.
Learn more
Learn more about Amber, her journal and planner at: http://www.ambercampion.com/thegoods/
Get your product featured
If you enjoyed this article and would like your Vervante product featured in our newsletter and blog email social@vervante.com with the following information:
250-word overview of your product
URL link for the landing or sales page for the product
High-res image(s) of the product and/or author
Your creativity inspires us and your success deserves to be shared!