Author Spotlight: Rhonda Hull
by Vervante •
We're constantly amazed by the clever, unique, brilliant and beautiful books and products our customers create. Today we'd like to introduce you to Rhonda Hull, Ph.D., a seasoned author, artist, speaker and guide. Through the conscious use of the energy found in words+art+collaboration, Rhonda is a powerful advocate of whole-hearted living and to support her message she has created a series of Keepsake Treasures products that are easy to share, easy to carry, and always stay in your heart.
The story of Rhonda's Keepsake Treasures
Q: What inspired you to create these products?
I have long been some form of teacher, mentor and guide, but neglected to see my lettering and calligraphy as a worthwhile part of who I am and what I offer.
Walking the path of cancer with my barely 2-year-old grand-nephew (now 14), followed by becoming actively involved in the ongoing journey of my grandson when diagnosed with autism at age 3 (now 13), and then facing my own health challenges as a result of the stress of it all, I learned the power and importance of self-care, and in having a circle of ones who you love and who love you unconditionally. I learned that the things we think are so important become less so, and that love really is the answer to every question. Every moment can be a keepsake moment, even the messy ones.
I knew it was time to bring my art forward as a way to touch hearts and make a difference. The importance of savoring even the bittersweet moments is what I attempt to reflect in my products, dedicated to uplift and offer encouragement to those maneuvering the meaningful and messy moments of life.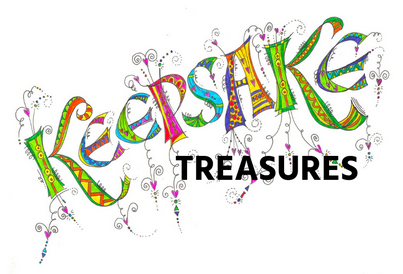 Q: What advice would you give other aspiring authors or creatives?
Dare to believe it's possible. Take at least one step beyond your comfort zone. Dream not only outside the box, but as if there is no box. Get clear on the people you want to serve.
It was amazing to me how by daring to hope, and ask, and take risks, and believe it was somehow possible, be willing explore pooling the talents of other creatives, and then leaning on the guidance and experience of Vervante, even more than I could imagine became possible. As a result, I found the courage to set my creativity free!
Q: What do you love about the Keepsake Treasures products?
They are filled with colorful energy captured in a variety of forms that expand my ability to touch hearts!
A long time ago I took on the belief that I could never succeed as an artist. Vervante offered me the framework through which I could see beyond that limiting belief. Using words+art+collaboration transformed into variety of product formats, I was easily able to expand my product line and began to see the value in using my creative inklings to make a difference - and an income!
About Keepsake Treasures
The trickiest journey of a lifetime is only 16 inches, the adventure from your head to your heart.
"But, where do I start," you may wonder, and, "how is it possible for me to feel so easily overwhelmed, so little meaning, and all alone in a world where I am elbow-to-elbow with over 7 billion people?"
In a world of too much 'stuff' and too little time, we can loose sight of the essential things that matter most; the things that keep us connected to our own heart and to the people we love, confident that every moment matters, despite our circumstances.
Combining art+words+collaboration, the keepsake products at Rhonda's website, are infused with love and designed to keep us ever-aware that every moment is full of miracles, even the messy ones.
Whether something simple that offers acknowledgement to someone you love (My Little Red Book), uplifting comments and profound questions to help you maneuver through tough times (Healing Heart Cards), or daily encouragement to focus on the power of presence and possibilities (Yes, And the Adventure Continues Playbook/Any-Time Day Timer), these products are an invitation for us all to make every moment a keepsake moment.

Thanks to words, wisdom, and collaborative art skillfully brought to life through the craftsmanship of Vervante Press, RhondaHull.com offers a life-line of creative energy, and heartfelt encouragement on your adventure from your head to your heart. Come dare to make every moment a keepsake moment!
Learn more
Learn more about Rhonda and Keepsake Treasures products here: https://rhondahull.com/keepsake-treasures/
Get your product featured
If you enjoyed this article and would like your Vervante product featured in our newsletter and blog email social@vervante.com with the following information:
250-word overview of your product
URL link for the landing or sales page for the product
High-res image(s) of the product and/or author
Your creativity inspires us and your success deserves to be shared!