Author Spotlight: Shira Gura
by Vervante •
We're constantly amazed by the clever, unique, brilliant and beautiful books and products our customers create. Today we'd like to introduce you to Shira Gura, Creator of The S.T.U.C.K. Method®, author of the award-winning book Getting unSTUCK: Five Simple Steps to Emotional Well-Being, and host of the Getting Unstuck podcast. Shira shares her inspiration for creating a unique card deck that works in harmony with her book and in helping people to embrace her teachings and get unstuck.
The story behind Shira's Consideration Cards
Q: What inspired you to create this card deck?
I actually originally had an idea to write another book, "365 Considerations," but then I realized a few things: a) card decks are "in" now, b) using cards is a unique and different way to work with Getting Unstuck than a book, c) card decks are portable, accessible, and effective in any moment, whereas books are more of a "shelf" thing once you are done reading them, and d) they would be great giveaways or add value to a course I offer.
Q: What advice would you give for others creating card decks (or any other type of product)?
Varying your products is important. It helps build your brand and it gives the impression to your customer that your brand is serious and growing.
Q: What do you love about this product?
I love that the cards are versatile, that I can give them as gifts, that they can be used in a variety of ways (both personally and professionally), and best of all, I love that people are buying them!!
About Consideration Cards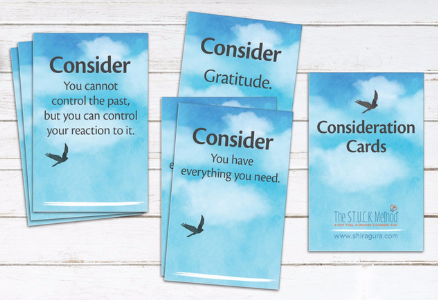 The S.T.U.C.K. Method® is a self-coaching tool that empowers you to get "unstuck" from emotionally challenging situations in your life and in your relationships. There are five steps to the method: S=Stop, T=Tell, U=Uncover, C=Consider, and K=OK. While the steps are not necessarily always easy to implement when in the midst of a "stuck" situation, they are simple and illustrate the possibility of being able to flow from a place of emotional turmoil and distress, to a place of clarity and inner peace in any moment.
This deck includes 52 concise, yet powerful, Consideration Cards as a support to get you unSTUCK.
The 4th step in The S.T.U.C.K. Method®, "C" for "consider," guides you to become less reactive and more deliberate in challenging life situations by pondering alternate viewpoints. The Consideration Cards are meant to be used in conjunction with The S.T.U.C.K. Method® to help you broaden your perspective, heighten your curiosity, and reflect on suggestions from an objective source. When you are struggling to cope, these cards can guide and support you, and prompt you to redirect your focus.
Getting unstuck is not a one-stop process, but rather a skill that is cultivated through continuous repeated practice.
Learn more
Learn more about Shira's cards here: https://shiragura.com/considerationcards/
Get your product featured
If you enjoyed this article and would like your Vervante product featured in our newsletter and blog email social@vervante.com with the following information:
250-word overview of your product
URL link for the landing or sales page for the product
High-res image(s) of the product and/or author
Your creativity inspires us and your success deserves to be shared!