Author Spotlight: Kesha Brown
by Vervante •
We're constantly amazed by the clever, unique, brilliant and beautiful books and products our customers create. Today we'd like to introduce you to Mediocrity Escapologist Kesha Brown at Uncommon Chick Media. A "planner addict" from the time she was a teenager, Kesha finally found the perfect planner - by creating her own! Learn about her journey, the tips she shares for other entrepreneurs considering adding planners to their business model, and see how she uses video in a creative way to share and promote her planner with her audience.
The story behind Kesha's Unstoppable Planner
Q. What inspired you to create this planner?
I have been a planner addict since I was in high school and, through the years, have tried almost every planner on the market. However, I simply was not finding exactly what I wanted. So one day, I decided to create my own planner. The first versions were printable planners that I shared with my tribe. The feedback was overwhelmingly positive! Then, I kept being asked to create a physical version of the planner. That process of finding a vendor who could economically produce my vision was a headache until I found Vervante! Now, I am happy to say that I use my very own planner every day and am ecstatic to be able to share it with others as well!
Q. What advice would you give for others creating a planner (or any other type of product)?
First, know your WHY for creating it. It will make it that much easier as you're going through the process, which may not be easy or quick!
Secondly, decide exactly what you want so that you can articulate your idea to whomever will be designing your product for you.
Last but not least, create a marketing plan early (for online and offline marketing). Know who your ideal customer is and share early and often. Even share as you're going through the process of designing your product to spark interest and keep people abreast of what you have coming out. Besides, people love a 'behind the scenes' view
Q. What do you love about your planner?
I love that it's my OWN creation come to life! In it, not only do I get to remind myself of my life's vision and mission daily but I also have used the Vision pages as mini-vision boards that I review every day to help visualize my goals and keep them top of mind. In addition, although the planner was created based on my personal planning and goal achievement philosophy, it's still flexible enough for others to take it and make it their own so that they too can be Unstoppable!
About the "Unstoppable Planner"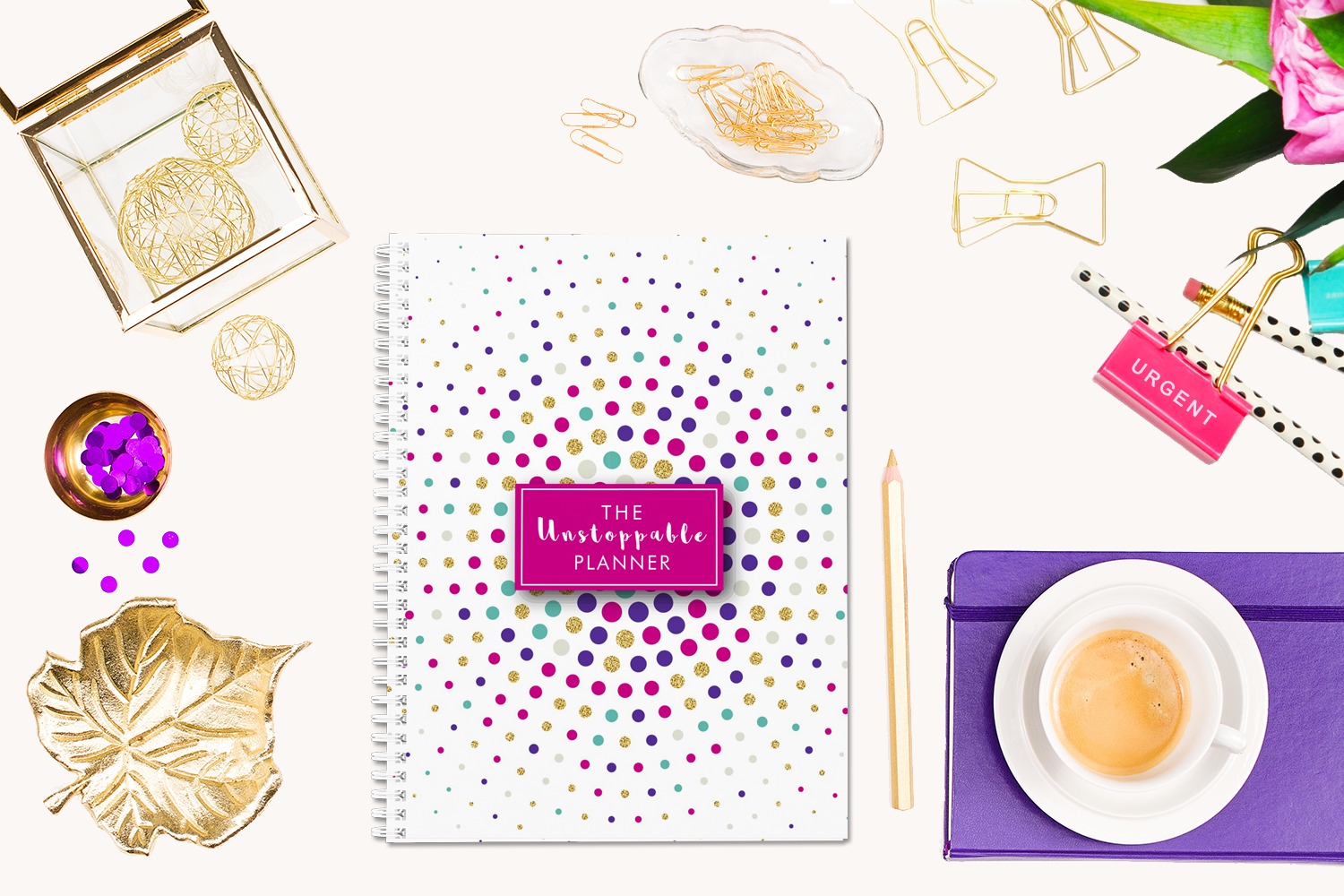 For the woman with BIG dreams and an UNSTOPPABLE mindset.
This is your time to create the life you know you deserve.
This is your time to you focus on what makes YOU happy and stop doing what everyone else expects you to do.
This is your time to stop "shoulding" all over yourself and escape the status quo to be the unstoppable chick you truly are!
More than just a place to write down a simple list of to-dos, the Unstoppable Planner helps you plan, organize and master your life, while keeping your vision, mission, daily success habits, and mindset at the forefront of your day.
Features:
7 x 9 in colorful planner with white spiral binding
184 beautiful, full-color pages
12 full-color tab pages that you can use for whatever your heart's desire!
Space to add ideas and inspirations and monthly reflections
Bucket list page
Monthly and weekly inspirational quotes
Monthly layouts for big-picture planning
Weekly layouts with space for your top 3 tasks each day (to focus only on the most important items first) along with your other daily tasks, weekly goals, and a weekly meter to indicate how your week went
2 Sticker pages to adorn your planner with flair
Corner pocket on the back inside cover to house stickers, photos, or other items
The Unstoppable Planner is your new partner to help you focus on what matters most and create more fulfillment, freedom, and magic in your life!
Learn more
Learn more about Kesha's products here: https://uncommonchick.com/product/the-unstoppable-planner-undated/
See Kesha's planner video here: https://youtu.be/kc_yGQRCC7Q
Get your product featured
If you enjoyed this article and would like your Vervante product featured in our newsletter and blog email social@vervante.com with the following information:
250-word overview of your product
URL link for the landing or sales page for the product
High-res image(s) of the product and/or author
Your creativity inspires us and your success deserves to be shared!