Author Spotlight: Jeanna Gabellini
by Vervante •
We're constantly amazed by the clever, unique, brilliant and beautiful books and products our customers create. Today we'd like to introduce you to Jeanna Gabellini, Master Business Coach, Law of Attraction expert, and author of the "Speed Dial the Universe to Double Your Profits" journal.
The story behind Jeanna's inspiration
Q: What inspired you to create this journal?
A: This journal was created out of frustration. I used to have several different notebooks and journals, each one with a different focus. I had my daily gratitude lists, my intentions for the day, my great ideas, and visions for my future. I also had a slew of other journals where you fill in certain sections daily, but they were never quite right for me. My coaching clients were having similar frustrations, so… I decided to make a journal that would include the best processes I've found for mastering the Law of Attraction, raising your vibration, and setting yourself up to receive.
Q: What advice would you share with other aspiring authors?
A: Create the product you want and need. What would allow for more ease, flow, and joy in your day? Then leverage your expertise with an info product. And get your clients involved before you even introduce it… so they're already "hooked" on the solution you will provide.
Q: What do you love about this journal?
What I love about this journal is it gives you a shortcut to infinite ideas, solutions, and connection while shifting your energy, focus, and expectations to create more of what you want, every day. In just 10 minutes a day. I also love hearing daily, about the awesome results my clients receive in their lives and their businesses!
About "Speed Dial the Universe"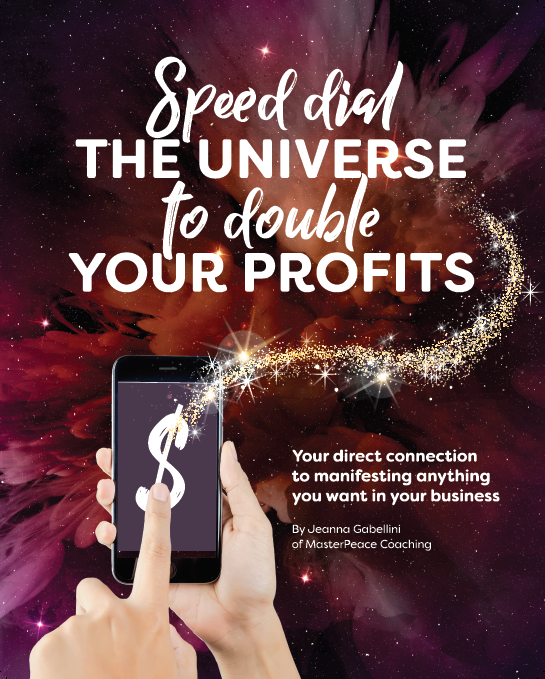 The Speed Dial the Universe journal shares a 6-step, 10-minute money-magnetizing process that sets you up to receive everything you want in your business. With all of the to-dos, demands, and craziness of your business, it's easy to stumble into each day without taking the time to get focused, set your priorities, raise your vibe, and deliberately create what you want.
The Speed Dial process is an easy-breezy way to create a whole new level of prosperity, profitability, and manifestation power. Because when you've got the Universe on speed-dial, anything is possible. This journal guides you through 6 Steps to:
Choose how you want to feel, let go of your past stories, and amp up your vibe for maximum manifestation.
Clarify your top priorities and inspired actions for the day so you spend your time and creative energy on what matters most.
Delegate all the to-dos, demands, and desires you don't want to deal with to the Universe (and watch what happens!).
Be an idea machine for new strategies, products, and services that put your business on the map and pay off big time.
Shift your focus, energy, and expectations to easily manifest your deepest desires and realize your wildest dreams.
Expand your capacity to receive and flex your manifestation muscles by clarifying and claiming your most outrageous dream biz.
6 Simple Steps + 10 Minutes a Day = Whatever You Want!
Learn more
Learn more about Jeanna's book here: https://masterpeacecoaching.com/products/speed-dial-to-profits
Get your product featured
If you enjoyed this article and would like your Vervante product featured in our newsletter and blog email social@vervante.com with the following information:
250-word overview of your product
URL link for the landing or sales page for the product
High-res image(s) of the product and/or author
Your creativity inspires us and your success deserves to be shared!