How free plus shipping offers work
by Vervante •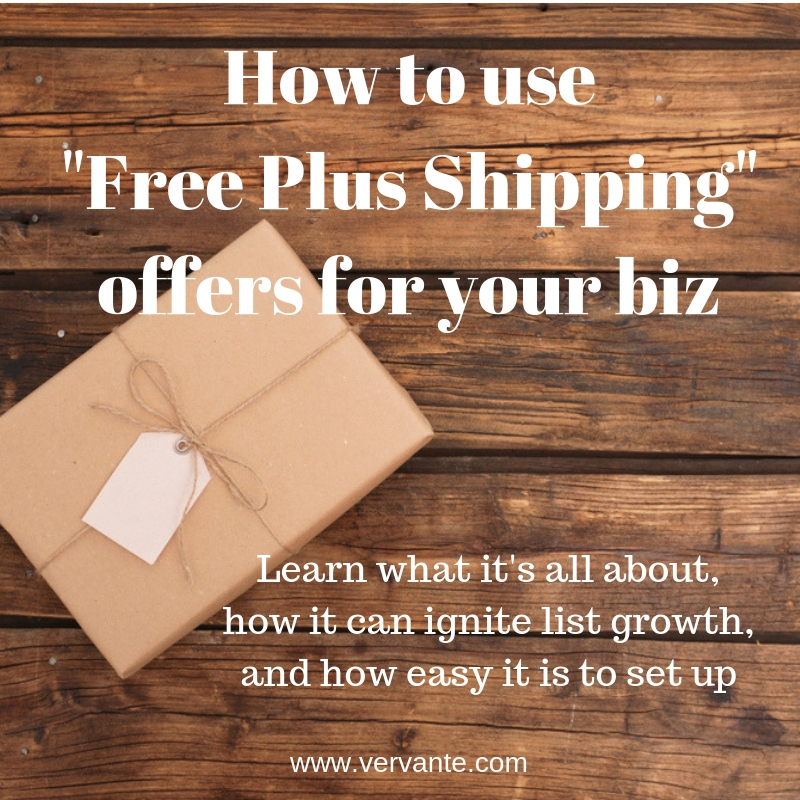 Have you heard of "free plus shipping" offers? Internet marketing gurus like Russell Brunson, Dean Graziosi, Brendon Burchard and Perry Marshall have mastered the sales funnel and free plus shipping offers – in fact, it's one of the biggest trends in publishing right now – which is why we wanted to share a little bit about how it works and how we can help you use it too.

What is Free Plus Shipping?

Free plus shipping offers are when a product is offered for free and the buyer is only asked to pay for shipping costs. It's a great way to excite your audience, create lots of new customers, and grow your list with minimal cost to you. While you don't make money, or maybe just a small profit, initially from free plus offers, it's the conversion of leads into additional sales of products, programs or services that these offers lead to that make this method profitable.

You don't need a huge list for free plus offers. In fact, this is a great way to GROW your list. You can begin by printing a small print run to get started. As demand grows, you can order larger batches of the product, reducing your initial costs while increasing list growth and future revenue potential.

How to set up a free plus shipping offer:
FIRST: Create a product for your free offer. This could be a condensed version of a larger product or program you can promote or upsell. Some of the more popular products are saddle-stitched booklets and perfect bound books.

NEXT: Contact Vervante at sales@vervante.com for free quotes for your product. We can give you print-on-demand quotes (for printing them one at a time) and bulk order quotes for 50, 100, 1,000 or however many you want to start with (the more you print, the lower the cost per unit).

ORDER A PROOF: For any product you create, we recommend that you order one (or a few) as a sample to make sure it's exactly how you pictured it.

PRINT FREE PLUS PRODUCT: Once you've approved the product, let us know how many you'd like to print for your initial order. We can keep your products in our warehouse with no inventory fees.

FULFILLMENT: We receive order information, pull the product from stock, and ship them to the customer. We include tracking numbers and customized packing slips free of charge.

We can process orders from ANY shopping cart, no matter which one you use. And you don't need to worry about integration, API, or any of that fancy complicated stuff. For information about how we handle order processing and working with ALL shopping cart systems, click HERE.

INVENTORY MANAGEMENT: You can see how many products you have in storage in our warehouse, plus order status, tracking information and more in your Vervante Author Dashboard account.

RETURNS: We accept returns. We do not charge you for handling a return. You will receive an email when we receive a return. Returns can be sent to our headquarters in Utah, or you can modify your packing slip to have returns sent directly to you. Whether you choose to have returns sent back to us or to your office, we recommend that you include your return policy on the customized packing slip included with each of your orders.

If you love this idea, we're ready to help you get started. For questions, ideas or free quotes reach out to our publishing pros at customerservice@vervante.com or schedule a phone call with us by clicking HERE.