Author Spotlight: Nancy and Steve Juetten
by Vervante •
We're constantly amazed by the clever, unique, brilliant and beautiful books and products our customers create. So much that we're starting a spotlight feature to share the details of their creations and the inspiration behind them. Today, we're pleased to introduce Nancy and Steve Juetten.
About: Life Goes on Roadmap™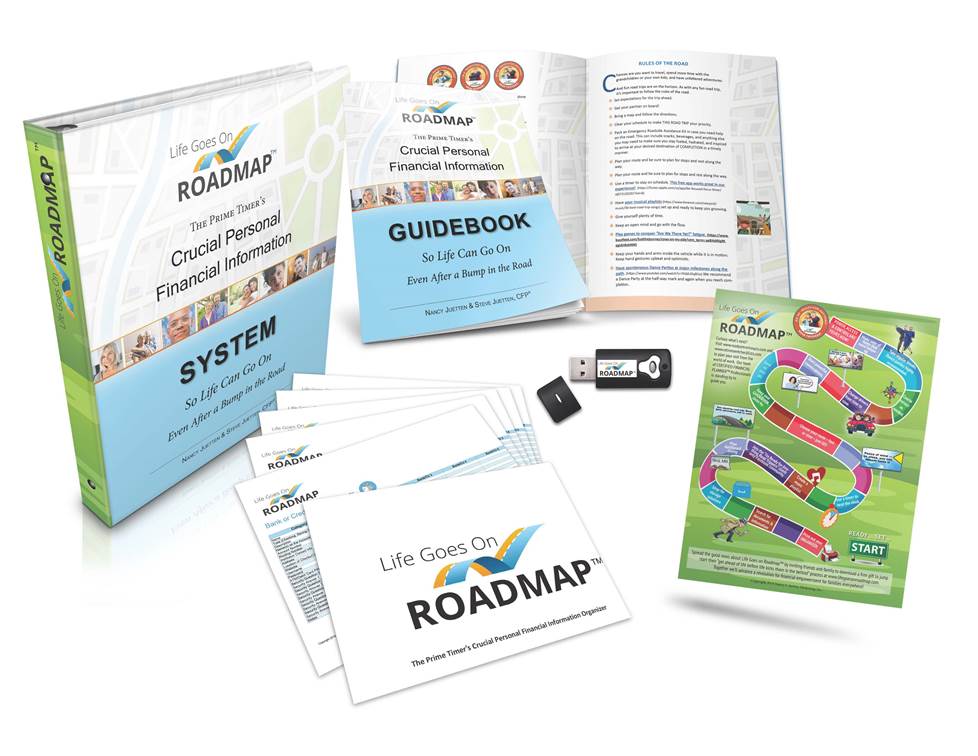 Life Goes on Roadmap™ is a playful, powerful, and practical system for families to use to organize their crucial personal finance information to gain power, access, and control, before disease, disability or death get in the way. Life Goes on Roadmap elevates the process of getting organized to be a game to win instead of an administrative task to put off.
Users welcome financial peace of mind when they organize important contacts, service providers, insurance information, bank or credit union accounts, investments, credit cards, and more so the information is accessible when and where it is needed. Unlike shelf help, the creators hold clients' feet to the fire to get the mission accomplished, while making it fun. Consumers love the product and the experience so much they are posting powerful testimonials to YouTube.
Created by a fee-only fiduciary who is also a CERTIFIED FINANCIAL PLANNER™ Professional and his wife, Life Goes on Roadmap starts powerful conversations now with family members to shift roles and responsibilities as needed to ensure a smoother journey, no matter what happens next. Unlike old fashioned paper systems, Life Goes on Roadmap is suitable for today's digital age. It offers a safe and secure way to enter, save, update, and share the information that covers 16 important pages of crucial information with the right people who have a need to know.
The story behind the product
Q: What inspired you to create this product?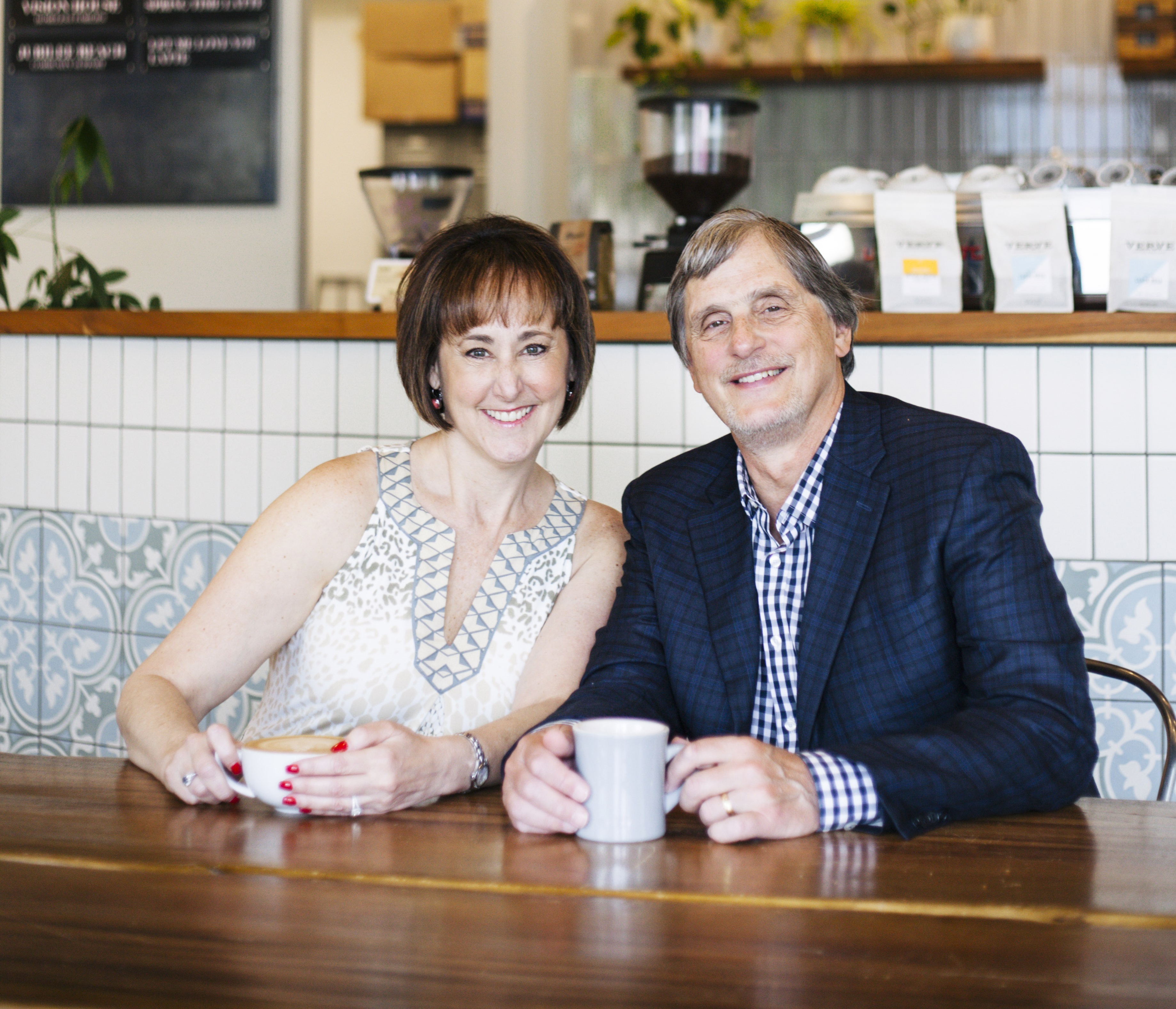 A: The inspiration for creating this product was deeply personal. Late last year, three people I love got life altering news. One was served divorce papers by surprise after 32 years of marriage. Another found out her stage 4 lymphoma came back. The other checked into the hospital with the flu and died. It was a triple threat of divorce, disease, and death in one week.
Shell shocked, I had a serious chat with my husband Steve. He's a CERTIFIED FINANCIAL PLANNER™ Professional. I asked him to get me on the same page with regard to all of our most important financial documents and information so I would have power, access and control to advocate for him if something were to happen to him or be able to drive my life forward if it should come to that.
It was a light bulb moment for us because we discovered a blind spot that once uncovered could make a huge difference for families everywhere. As much as financial advisors guide their clients to save for retirement, plan for emergencies, diversify and rebalance their portfolios, and mitigate their risks, there is a common gap that goes unmet that is hiding in plain sight. It is making sure that all the right parties in the family have power, access and control over their financial accounts and documents for when life serves up a bump in the road.
After searching online for a positive, upbeat approach to getting the mission accomplished, together we decided to create our own system to escape the 'doom and gloom' approaches we found so disappointing in our online search. We've actually elevated the task of getting organized into a game to win instead of task to put off until later. We hold our clients' feet to the fire to get this done as we make it fun.
In August of this year after serving hundreds of families to rave reviews, we started licensing our system to advisors so they could bring this level of very specific empowerment to their clients. Now we have 10 licensees proudly sharing the system with their clients, and consumers of our system creating YouTube videos to sing its praises. As advisors consider what services to add to their current offerings to serve clients more deeply, meet a personal, practical, and profound need, and set themselves apart in the marketplace, Life Goes on Roadmap™ does the job.
Q: What advice would you give for others creating a product like this?
Solve an urgent problem for a specific audience of people who will willingly invest to get the value and the benefit.
Be excited about your solution to the point that you will stop at nothing to bring it to market.
Take your product beyond "shelf help" by finding ways to engage, delight, inspire, and involve your clients in achieving the promised outcome in a specific window of time so they have something to celebrate and are inspired to tell their friends. I am a big fan of the Great eCourse Adventure and Marisa Murgatroyd's 'experience product' training.
Create an audience for your offer, even before your product is done or perfect. Our opt-in page for our 5 Blind Spots that Prevent Financial Empowerment and How to Course Correct for a Smoother Journey Special Report has welcomed over 3090 subscribers this year, and new people find it every day.
Test your offer, listen to feedback, make ongoing improvements in messaging and delivery, and keep your eye on the big results you desire and the specific revolution you are fighting for.
Work with Vervante so that the delivery of physical product can be world-class, reliable, and efficient.
Q: What do you love about this product?
A: The design and ease of use of our 'experience product' factor big time in the value and results clients welcome when they make the wise choice to get on the virtual bus to get their personal financial information and crucial documents organized with our tools, expert support, and 'hold your feet to the fire to get this done' accountability.
The inspiration for this product and the impact it has on those who use it offer us the opportunity to experience our finest hour of contribution to the marketplace in the third act of both of our careers. I am almost 57 and my husband is 65, and we believe the best is yet to come for us and those we get to serve. What I love is that this product offers my husband and me the opportunity to serve, grow and make our legacy alive today with every family we help. It's never too late for your finest hour in life and business.
Learn more
Free report link: www.lifegoesonroadmap.com
Consumers can purchase this system from www.authenticvisibility.com/roadmap. It's a thoughtful and practical gift that gets people talking about important things before life gets in the way. Financial advisors and other professionals can license and brand the system as their own to serve their clients in this practical, profound, and very practical way.
Get your product featured
If you liked this and want your Vervante product featured in our newsletter and blog, please email social@vervante.com with the following information:
250-word overview of your product
URL link for the landing or sales page for the product
High-res image(s) of the product
Your creativity inspires us and your success deserves to be shared!