Publishing services for book coaches & publishing consultants
by Vervante •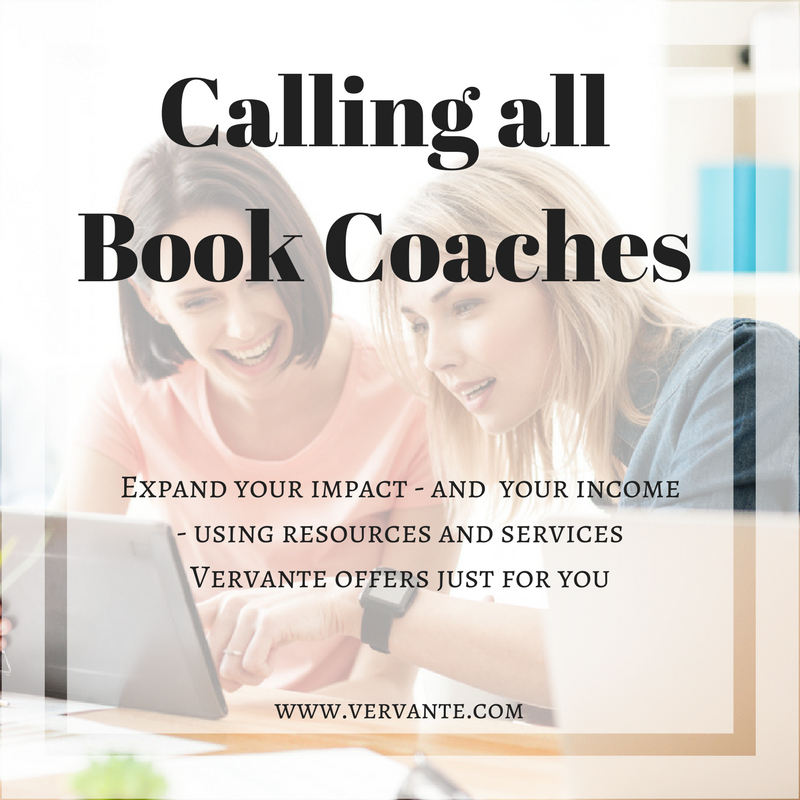 If you're a publishing consultant, book coach, or author mentor, one of the main goals of your business is to help your clients create the best book possible. All too often, though, once your client's manuscript is ready for publishing, they move on to the next step without you and the relationship ends.
Here at Vervante, however, we give book coaching professionals the ability to offer clients complete idea-to-finished-product services – expanding your impact on their journey as an author, as well as your ability to increase your income as a business.
Complete oversight of publishing process
We offer book coaches the ability to guide their clients through the self-publishing process by overseeing the process of ordering sample copies, approving all print and design decisions, and placing the actual, physical book in their clients' hands.
This is all done using a system set up for book coaches with Vervante that allows oversight of the full publishing process, from uploading files to approving samples and ordering first runs. Once the author is ready to take over, we can make that happen easily too.
Products you can offer through your business
We also offer book coaches the ability to offer products that complement books, such as bookmarks, cards, journals, postcards, spiral workbooks, CDs or DVDs, adult coloring books, card decks, and other creative solutions.
These are perfect for special events, upgrades, book signings, or to offer as special bonuses. You can easily add these options to your services, offering lucrative bonus services and products that authors will love.
Help clients sell books AND grow their business
By using Vervante, your clients have access to their customers contact information. Other publishers, such as CreateSpace, do not offer this. This is not usually on the radar for new authors, but it's a game-changer. Especially for those who are also entrepreneurs, business owners, or want to keep in touch with loyal readers.
Here's why you can't collect customer information when using CreateSpace: When an author sells their book directly on Amazon, the buyer becomes Amazon's client (not the author's), leaving the author in the dark about who is buying their book.
Here's how Vervante is different: We encourage authors to sell the book from their own sales page, process the transaction and we'll print and ship the book to the buyer. This scenario provides the author with more profit on the sale PLUS the buyer's contact information and email address.
If the author doesn't want to deal with credit card transactions, we can list the book in our store and the author simply redirects the buy button from their landing page to their book in our store.
The three big differences between our bookstore solution and redirecting to Amazon are:
We don't take 40% of the price of the book like CreateSpace
We share the customer data with the author
We take pre-orders for the book. An author can take pre-orders on their site or in our store and when the book is ready we'll print and ship to the buyers. This isn't possible on Amazon.
You can still sell from Amazon, though, and we recommend it be set up this way:
While we DON'T recommend redirecting buyers from the author's landing page directly to Amazon, we DO suggest using Amazon as a secondary retail distribution channel. Amazon Marketplace is a great option for selling books and products on Amazon. We'll manage all of the details from listing the book on Amazon to managing and shipping orders.
We receive so many questions about using Vervante vs. other publishers like CreateSpace that we've created a special report with more details you can read HERE.
Additional profit potential for book coaches and authors
On-demand printing and complete fulfillment services
While other publishers may offer cheap rates for initial press runs to the author, there are usually hidden costs. These special prices are commonly only applicable for bulk orders placed by authors for their own title. However, this leaves them shouldering the responsibility of storing the books in their home or office, supplying packaging, processing payments, addressing packages, and taking them to the Post Office for shipping, steadily chipping away at their bottom line - and adding time and stress to the process.
Vervante will print and ship books directly to customers. A copy of the order confirmation email generated from the author's shopping cart is all we need to print and ship the book. We can print and ship on demand or we can print bulk orders at further reduced costs, with the option of storing in our warehouse until they are needed. This helps authors avoid the expense and hassle of processing and shipping their own books.
Increased perceived value of book
While some people opt to list books with Baker & Taylor or Ingram, this can result in resellers taking the opportunity to sell your book through their own services, underbidding the set author price, and devaluing the book. Even if your clients are not writing a book for the money, when they try to offer their books at events, as promotions, or to support other products and programs, this causes the book to lose its value in the eyes of consumers.
Retaining control of the book's price is essential to retaining its value. Listing books with a wholesaler like Baker & Taylor releases control and can result in plummeting sale prices and royalties. Whereas selling and distributing through a personal sales page and shopping cart, as well as using Vervante's Amazon Marketplace listing services, retains control of the book - and ensures the continuation of its value.
Have you ever noticed when searching for a book on Amazon that there are a number of resellers offering the book at random prices? This is because the book has been listed with a wholesaler such as Baker & Taylor or Ingram and resellers then sell the book on Amazon at their discretion. The end result is that prices can drastically fluctuate, causing buyer confusion and devaluing the book even more.
Exceptional customer service
We have dedicated publishing professionals who will answer your emails and talk to you on the phone. Something pretty much unheard of in this industry.
Authors retain all rights
Authors retain all rights and creative control of their books and products. And we offer complete services for ISBNs, UPCs, LCCN Assignment and Copyright registration. You even have the option to list yourself or your own company as the publisher of your book.
However, if you use CreateSpace's template builder for your cover, they technically own the artwork for your book. And if you use their ISBN services, they own the ISBN and are listed as the publisher. This means if you decide to use alternative publishing services in the future, you must get a new ISBN and new design for your book.
We'll work with you and your client as a team
You've got experience in publishing. Your client probably doesn't. We'll work with you and your client to get their book published, distributed, listed on Amazon, shipped to speaking events, and whatever other support you need.
Satisfaction guaranteed
We stand behind our products and services, creating the highest quality books and products for our clients supported by the best in customer service. If you are not delighted with your experience with Vervante, we pledge to work with you to make it right - or we will refund your money. Furthermore, all products we publish are guaranteed against defects in quality and design. If any of our products are defective in quality, we will replace or repair that product at no additional charge.
Contact Us
We welcome the opportunity to partner with us for your clients' publishing needs. For more information, check out our Book Coaching services page, email sales@vervante.com, or schedule a phone call with a member of our team.