Full service book publishing solutions
by Vervante •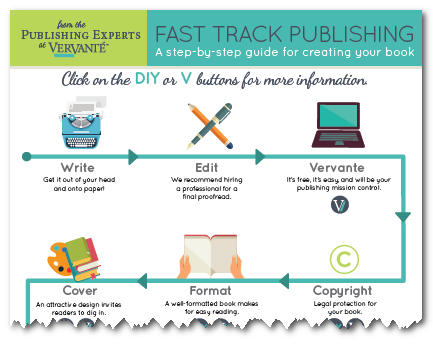 When it comes to books, we love 'em! From that first burst of inspiration all the way through to sales and distribution of the final product, we take joy in helping our clients every step of the way. In fact, we go above and beyond when it comes to books by providing full-service solutions that anticipate and meet every need our authors might have, including:
Listing on Amazon for Kindle and printed books
List on Barnes & Noble for Nook and printed books
Both paperback and hard cover formats
Printing both on-demand or in bulk
Storage in our warehouse for bulk orders
Wide variety of products that help market and sell your book, including bookmarks, postcards, special event tickets, printed newsletters and more.
Check out our special "Fast Track Publishing" infographic by clicking HERE to access our easy-to-follow guide for creating and printing your book - and all the great services we offer in between.

Whatever you can think of for your book - including interesting products that will help market and sell it - we've got you covered. Here's to letting your creativity flow!