Author Interview: What you need to know before creating DVDs
by Vervante •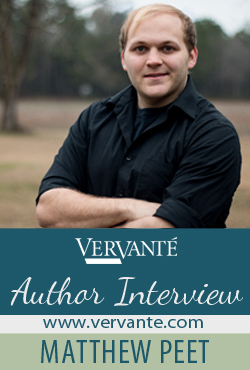 We really loved this month's interview with professional videographer Matthew Peet of Re-Peet Productions. Why? Because he's fun, he loves to make his clients smile, is cool under pressure and isn't afraid to share what he did wrong when using DVDs in his business – and how those lessons learned have benefited his clients and business after all. Meet Matt and learn about how he uses DVDs to create a life-long impact on his clients.

Matthew Peet: Re-Peet Productions
Matthew Peet's mission is simply to create awesome videos that meet the needs of his clients as he creates videos for corporate, weddings and special events. He recently shared his thoughts with us about his experiences creating and duplicating DVDs for his clients and some tips for others who are thinking of using similar on-demand services.

Working with Vervante: I am a professional videographer so I have many DVD projects that I produce using Vervante's on-demand services for my newlywed and corporate clients. I found Vervante through a personal referral several years ago and have been using them ever since.

Vervante's no minimums policy works perfectly for my wedding video clients. The DVDs I produce for them are mailed 5 at a time directly from Vervante to the newlyweds' doorstep so they can have one and they can share 4 with their friends and family. Plus, the fact that I can upload my logo to the package information is just icing on the cake!

I also love how I have access to templates for everything I would ever need to create. I create many DVD's so I have a template in InDesign that I work from but I am working on writing an eBook now and seeing how easily Vervante was to use for DVD's I'll probably give their book publishing services a try.

Finally, Vervante's customer service is outstanding. I've had a couple instances where I messed up in my design and had some questions on how to fix it and my email was responded to immediately. I always dread dealing with customer support but dealing with Vervante customer support is a delight. Also the free gift at Christmas was a much appreciated surprise.

Publishing Insights: One thing I wish someone had told me before I began the publishing process for these DVDs? Don't try and do it on your own. I wasted way too much time and money trying to do what Vervante does.

Last year I received a Canon printer that prints on DVD's so I thought I would give it a shot. I ordered printable DVD's, DVD cases, and spent some money on nice paper. After three weddings, lots of wasted paper and ink, hours of frustration, and inferior quality when compared to Vervante, I decided I was going to cut my losses and go back to using Vervante. The turnaround time and quality Vervante offers can't be beat! It saves me HOURS of having to print, cut, edit, and repeat. I send in my Disc image and DVD case image and wait for it to be added to my account, I hit order and I'm done. My clients are happy, I'm happy, and it's worth every penny.

You can learn more about Matthew and Re-Peet Productions at www.repeetproductions.com. If you enjoyed this article, and would like to be featured in a future Vervante author interview, please email us at customerservice@vervante.com.